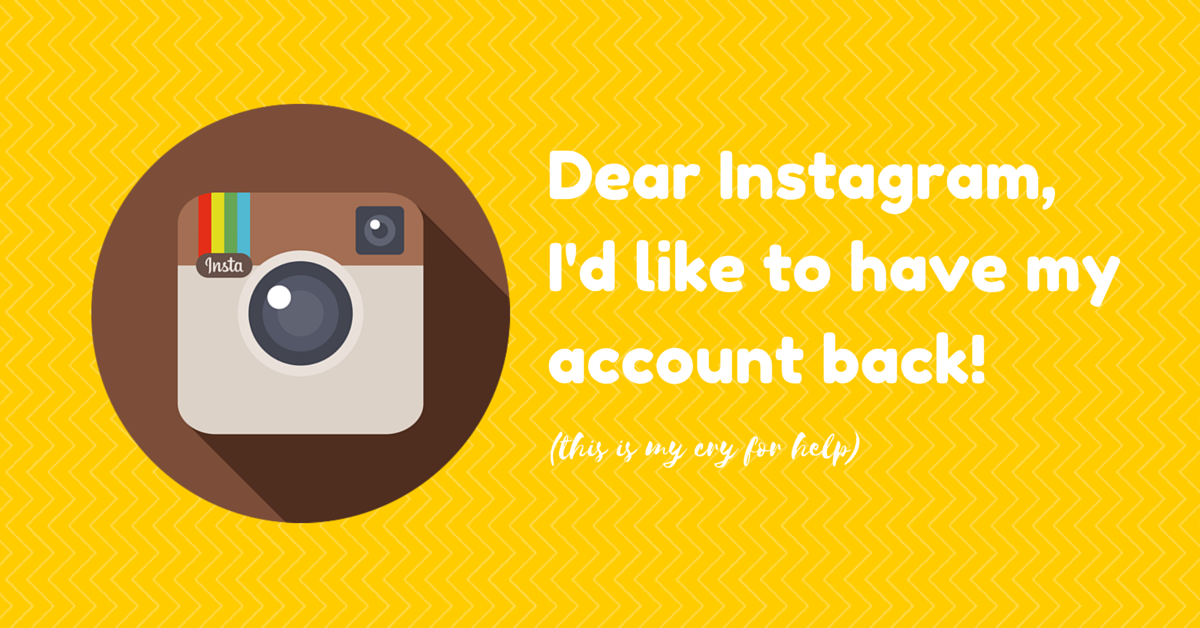 Author's note: I'm writing this post partially as a cry for help, and partially as a chronicle of all the ways to try (and fail) to the attention from Instagram. If you have a helpful tip, please comment below. 
These are the ways I've tried to contact Instagram so far:
---
I love Instagram. I love it for pics of daily life and traveling. I love it for branding businesses.
Because I'm such a fan of the social media platform, it stings even more that I'm unable to regain access to my own business account (@newcontentcollective).
Before you jump to conclusions, my account did not get suspended or shut down because I was spamming. I have 0% sympathy for people who spam and rightfully get suspended.
I like to think that I'm one of the good guys on Instagram. Sure, sometimes I get carried away with hashtags (they're all relevant though!), but I'm not auto-commenting or auto-liking or auto-following or using hashtags like #instalike or #follow4follow.
I'm locked out of @newcontentcollective because I have no way to retrieve a new password or security code. It was my fault (kind of), but it was an innocent mistake that shouldn't be punished by disallowing me to re-retrieve access.
The next logical question you probably have is…
How did I locked out of my Instagram account?
For better or worse, Instagram is extra cautious about "suspicious" activity. I put it in quotes because a lot of the time, it's not suspicious. But my complaint isn't about Instagram trying to avoid more Laremy Tunsil-like Instagram hacks.
As I do from time to time, Instagram triggered my account for suspicious activity and needed for me to type in a verification code. I'm not sure what triggered the suspicious activity, but I'm used to this.
They emailed me the verification code in this email:

Normally, I'd just copy the verification code and paste it in the appropriate field on the app– done. I'm back in my account, no problem.
This time though, my mind was in autopilot, and I clicked on the long link– the long link that will remove your email account. My profile's email account was removed from the account, and now my Instagram account has no email associated with it. Why would Instagram allow an account with no email associated with it? Not sure, but that's not the point.
I know what you might be thinking at this point. There's other ways to get back into your account besides email: Facebook profile and/or phone number.
Well, my verified Facebook Page for New Content Collective is linked to the Instagram account, but that doesn't do me much good in terms of getting back into my account– it needs to be a Facebook profile.
My main Facebook profile (my personal account) is linked to my personal Instagram (@migftl). I have fake Facebook accounts that I could've used, but a) that seems silly to have to attach a fake account, and b) why the heck can't I use my verified Facebook Page that's officially linked to the Instagram account in the Page's settings and Facebook Ads account.
Instagram allows only 1 phone number per account. My phone number is linked to my personal Instagram, and I could've used my business phone number (it's a Google Voice number that will forward texts to my cell), but again, I didn't do that. I blame myself more for this gaff than the Facebook fake profile one. Also, come on! Instagram, let us use a phone number for at least a couple of accounts. Not everyone has multiple numbers.
In short: I can't log in, and I can't receive reset password/security verification messages anymore.
I've tried the Instagram Help Center / Support Form
My first attempt at reaching support on Instagram was their support form that you can find in the Instagram Help Center. Here's the link as of 5/3/16: Instagram Login Issues
Answer all the questions honestly, and you'll eventually see the form. Here's a screenshot of the bottom of the form.
I've filled out this form twice, and I attached proof of my association with my business both times. I get no automated response from Instagram. Not even a "We've received your support request. We'll get back to your in a million weeks".
Nothing.
Forgive if I'm skeptical that one of the biggest social media platform isn't paying attention to my request. It'd just be nice to get a confirmation that they received my support request. That's all I ask… for now.
I've emailed them
A common support email address that appears when googling this problem is support@instagram.com. I've tried emailing them 3 separate times (including today, just to make sure before publishing this post). Consistently, I get a postmaster response that looks like this…
These emails were spread out over 2 weeks. I got the same response every time.
Useless!
I tried calling
My gut feeling was that trying to get a human on the phone was a waste of time, but I wanted to be thorough with my efforts. I found this number on GetHuman: 650-543-4800
I tried to navigate their phone menu a few different ways. Every attempt ended with an automated voice, telling me to visit the Help Center online.
Again, useless!
I tried messaging them on social media
I sent them a message on Instagram from my personal account. I've heard nothing (and really don't expect to). They disabled their DMs on Twitter. I messaged them on their official Facebook Page, but again, I've heard nothing and don't expect to.
This is a shot in the dark– I'll update you if this method works, but my prediction is it won't.
Now I'm blogging here, LinkedIn Pulse, and Medium
This method is a little more time intensive, but my business' Instagram account matters a lot to me. It's my business name. It's an account that's grown slowly, but authentically. I use the platform as it was intended. I've never spammed or attempted to game the system.
I'm willing to write 1000 words to hopefully find some help or get the attention of someone at Instagram.
Comment with any tips or help you can offer
I'd really appreciate any advice on resolving this issue. It might seem silly to some, but I take this very seriously. Instagram is an important aspect to New Content Collective's online branding, and I'd like to get my account back.
Thanks in advance, and stay tuned for any updates on this issue.